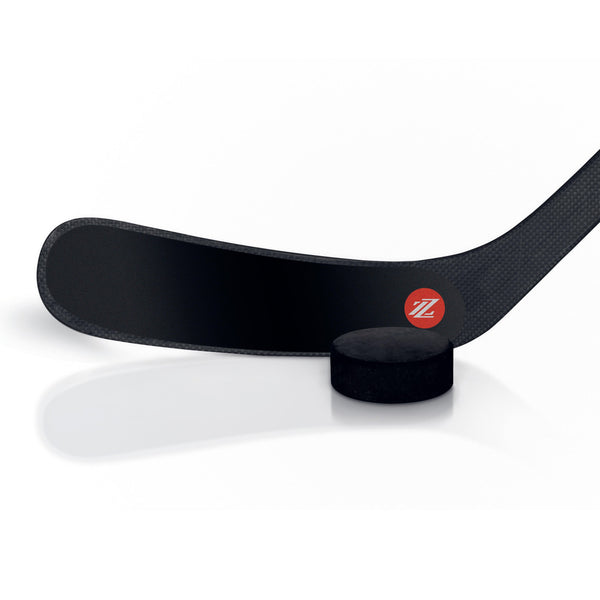 Rezztek Hockey Stick Blade Grip Tape
The roller gear nerds at Coast to Coast are happy to help you find the perfect product. Contact us before you order, or visit us in store for the best experience.
When properly applied, each pair lasts up to 10 games
Applies in Seconds
Four patented layers, each specifically designed for your top performance. Water resistant and repellent to keep your top performance throughout the game..
1. Powerful adhesive with clean removal
2. Super strong fiber mesh for maximum durability
3. Resin for minimum energy loss and maximum flexibility
4. Grip surface for better puck control, shot speed & accuracy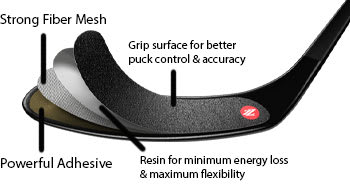 An Independent study, Influence of Physical Properties of Hockey Stick Blade on Shots" by Martin Plesch in 2019 compared Rezztek® to traditional hockey tape. This published scientific study confirmed that Rezztek® significantly improves the speed and accuracy of your shot by the below metrics.
Energy: 
5%
improvement
Speed: 
3%
improvement
Junior is for youth and junior blades  (usually up to 12 years of age)
Senior is for intermediate and adult blades – (usually 13 years of age and over)
Click Here To Watch: How To Properly Apply Rezztek
*Replace your Rezztek® when more than 30% of the surface area is damaged.
Shipping:
All orders will be responded to by email within 24 hours. If the order is placed on the weekend, by Monday. We will confirm with you through email to confirm the product is in stock, when it will be shipped, and tracking information if it is available. If we have the item in stock, it will ship within 1 business day. We use Canada Post to ship.
We ship coast to coast in Canada and beyond. We will take every measure we can to make sure your order leaves our shop safely and arrives at your door as soon as possible.
Rates:
We can ship to virtually any address in the world. Note that there are restrictions on some products, and some products cannot be shipped to international destinations.
Canada Post Calculated Rates:
Calculated at checkout - RUSH XpressPost shipping available to Canada and USA.
TWO DAY + PRIORITY SHIPPING AVAILABLE! If you have a strict deadline - shoot us an email before you order and we will confirm if it can be done! info@coasthockeyshop.com
Flat Rate No Rush Shipping Rates:
NEW *Free Shipping to Canada and USA on orders over $150*
Local Lower Mainland Delivery options:
Delivery within Vancouver - $6.99 (1-2 days)
Delivery within Richmond, North/West Vancouver, Burnaby - $8.99 (1-2 days)
Canada Shipping options:
Shipping within British Columbia - $10.99 (2-4 business days)
Shipping within Alberta, Saskatchewan, Manitoba - $12.99+ (3-5 business days)
Shipping within Canada $14.99+ (4-8 business days)
USA Shipping options:
under 500g - $11.99 (3-5 business days)
under 2kg - $16.99 (3-5 business days)
over 2kg - $24.99 (3-5 business days)
International Shipping options: (example)
QUOTE REQUEST - $0 - Place your order, we provide an accurate quote.
up to 250g - $15 (two pucks or two bottles)
up to 500g - $26 (4 pucks, 2 sets (32) bearings)
up to 1kg - $35 (8 wheels, set (16) bearings)
up to 2kg - $69 (pants, 5 pucks, 8 wheels, set (16) bearings)
up to 3kg - $89 (Jr skates)
up to 4kg - $109 (Sr skates)

Special International Shipping for Small Items up to 2kg:
This is the best way to ship a small bag of Wheels, Bearings, Hardware, Pants, Shirts, Tape etc. anywhere in the world within about a week via Airmail!
Small Item Envelope
Please also note that the shipping rates for many items we sell are weight-based. The weight of any such item can be found on its detail page. To allow for the weight of packaging, we may round the weights up by a percentage.
ELIGIBLE ITEMS: Little stuff
Wheels, Bearings, Hardware, Pants, Pucks, Balls, Shirts, Toques, Tape, Socks etc.
NON-ELIGIBLE ITEMS: Big stuff
Sticks, Shafts, ABS/Composite Blades, Skates, Bags, Shin Guards, Elbow Pads, Helmets, Girdles, Goalie Protective etc.
Returns
If for any reason you are unsatisfied with your purchase, please use the contact us form and we will do our best to correct the issue. All products will have a 14 day return window, but exceptions can be made for unused products still in packaging.
If you used 'FREE SHIPPING', your refund total will be minus our initial cost to ship. We do not provide free return shipping unless we made a mistake.

Please let us know as soon as you have any issue with your order and we should be able find an amicable solution.