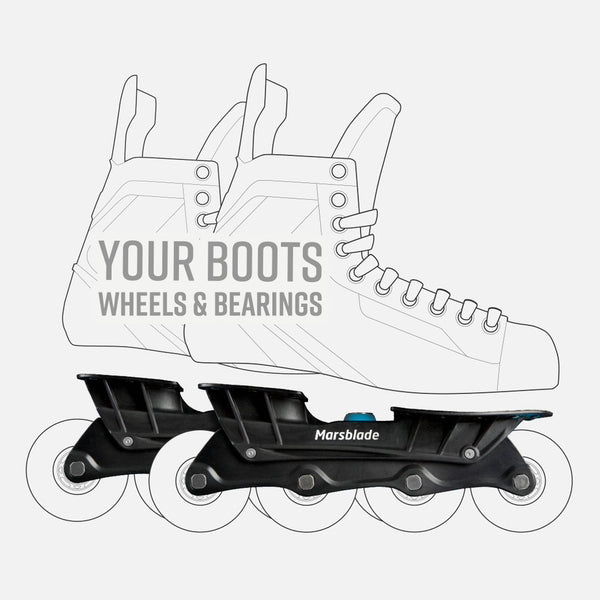 Marsblade O1 Off-Ice Inline Skate Frame
The roller gear nerds at Coast to Coast are happy to help you find the perfect product. Contact us before you order, or visit us in store for the best experience.
The Marsblade O1 chassis powered by the patented Flow Motion Technology - a unique rocker that replicates the radius shaped ice blade to simulate ice skating. The rocker is also designed to challenge players balance and to activate the core and stabilizer muscles in order to improve on-ice skating performance.
The only off-ice training tool that truly offers an ice-like skate feel. it's designed to replicate the radius shaped ice blade to simulate ice skating while challenging players stabilizer muscles, core and the right balance points to improve on-ice performance. It's used by players of all levels, including some of the best players in the NHL. 
Get your Marsblade from Coast to Coast!
Avoid sneaky high duties and brokerage charges when you buy from within Canada. The price looks GREAT online until UPS sends you the charges a week after you get your package.
Details:
Available in 3 sizes
Fits All Skate Brands
This product does not include wheels or bearings.
Small fits a maximum of 4 x 68mm wheels per skate
Medium fits a maximum of 4 x 72mm wheels per skate
Large fits a maximum of 4 x 76mm wheels per skate
Box Contents:
Marsblade O1 Chassis x 2
Wheel Axles x 8
Bearing Spacers x 8
O1 Multitool x 1
Tech Manual/User Guide x 1
Weights
Small - 360g
Medium - 392g
Large - 400g
Shipping:
All orders will be responded to by email within 24 hours. If the order is placed on the weekend, by Monday. We will confirm with you through email to confirm the product is in stock, when it will be shipped, and tracking information if it is available. If we have the item in stock, it will ship within 1 business day. We use Canada Post to ship.
We ship coast to coast in Canada and beyond. We will take every measure we can to make sure your order leaves our shop safely and arrives at your door as soon as possible.
Rates:
We can ship to virtually any address in the world. Note that there are restrictions on some products, and some products cannot be shipped to international destinations.
Canada Post Calculated Rates:
Calculated at checkout - RUSH XpressPost shipping available to Canada and USA.
TWO DAY + PRIORITY SHIPPING AVAILABLE! If you have a strict deadline - shoot us an email before you order and we will confirm if it can be done! info@coasthockeyshop.com
Flat Rate No Rush Shipping Rates:
NEW *Free Shipping to Canada and USA on orders over $150*
Local Lower Mainland Delivery options:
Delivery within Vancouver - $6.99 (1-2 days)
Delivery within Richmond, North/West Vancouver, Burnaby - $8.99 (1-2 days)
Canada Shipping options:
Shipping within British Columbia - $10.99 (2-4 business days)
Shipping within Alberta, Saskatchewan, Manitoba - $12.99+ (3-5 business days)
Shipping within Canada $14.99+ (4-8 business days)
USA Shipping options:
under 500g - $11.99 (3-5 business days)
under 2kg - $16.99 (3-5 business days)
over 2kg - $24.99 (3-5 business days)
International Shipping options: (example)
QUOTE REQUEST - $0 - Place your order, we provide an accurate quote.
up to 250g - $15 (two pucks or two bottles)
up to 500g - $26 (4 pucks, 2 sets (32) bearings)
up to 1kg - $35 (8 wheels, set (16) bearings)
up to 2kg - $69 (pants, 5 pucks, 8 wheels, set (16) bearings)
up to 3kg - $89 (Jr skates)
up to 4kg - $109 (Sr skates)

Special International Shipping for Small Items up to 2kg:
This is the best way to ship a small bag of Wheels, Bearings, Hardware, Pants, Shirts, Tape etc. anywhere in the world within about a week via Airmail!
Small Item Envelope
Please also note that the shipping rates for many items we sell are weight-based. The weight of any such item can be found on its detail page. To allow for the weight of packaging, we may round the weights up by a percentage.
ELIGIBLE ITEMS: Little stuff
Wheels, Bearings, Hardware, Pants, Pucks, Balls, Shirts, Toques, Tape, Socks etc.
NON-ELIGIBLE ITEMS: Big stuff
Sticks, Shafts, ABS/Composite Blades, Skates, Bags, Shin Guards, Elbow Pads, Helmets, Girdles, Goalie Protective etc.
Returns
If for any reason you are unsatisfied with your purchase, please use the contact us form and we will do our best to correct the issue. All products will have a 14 day return window, but exceptions can be made for unused products still in packaging.
If you used 'FREE SHIPPING', your refund total will be minus our initial cost to ship. We do not provide free return shipping unless we made a mistake.

Please let us know as soon as you have any issue with your order and we should be able find an amicable solution.