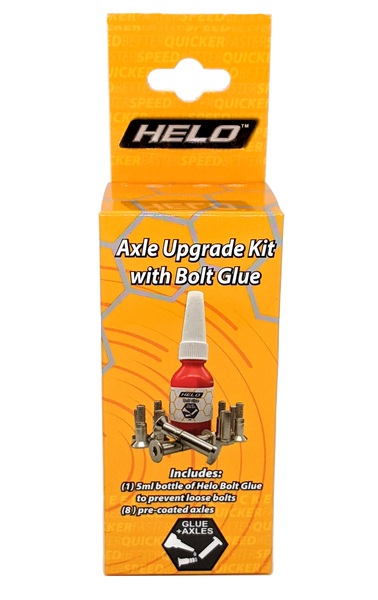 Helo Axle Upgrade Kit with Bolt Glue
The roller gear nerds at Coast to Coast are happy to help you find the perfect product. Contact us before you order, or visit us in store for the best experience.
Using the Helo 6mm Square Head Axle Upgrade Kit w/ Bolt Glue means you won't have to deal with stripped out or never staying tight axles again.
Details:
Recommended use with Helo Mult-Y Tool 2.0

Works with any standard 4mm Allen Wrench bit/driver

Fits most brands and models using square head 6mm axles

Interior fastening system for added strength and reduced loosening

Nickel plated steel for strength and durability

Pre-treated with Helo Bolt Glue on screw threads

6mm axle with Square Head

Package includes: 8 axles two piece axles that have been pre-coated with Helo Bolt Glue, and a 5ml bottle of Bolt Glue for future use.
Please note that with some skate
 / chassis models the axle with the square end may be a tight fit initially upon installation. Hand tighten fully with a bit of torque to get the square end to
pull into the chassis
. After having done this a few times, the square head
should go in and come out without much effort.
Shipping:
All orders will be responded to by email within 24 hours. If the order is placed on the weekend, by Monday. We will confirm with you through email to confirm the product is in stock, when it will be shipped, and tracking information if it is available. If we have the item in stock, it will ship within 1 business day. We use Canada Post to ship.
We ship coast to coast in Canada and beyond. We will take every measure we can to make sure your order leaves our shop safely and arrives at your door as soon as possible.
Rates:
We can ship to virtually any address in the world. Note that there are restrictions on some products, and some products cannot be shipped to international destinations.
Canada Post Calculated Rates:
Calculated at checkout - RUSH XpressPost shipping available to Canada and USA.
TWO DAY + PRIORITY SHIPPING AVAILABLE! If you have a strict deadline - shoot us an email before you order and we will confirm if it can be done! info@coasthockeyshop.com
Flat Rate No Rush Shipping Rates:
Local Lower Mainland Delivery options:
Delivery within Vancouver - $6.99 (1-2 days)
Delivery within Richmond, North/West Vancouver, Burnaby - $8.99 (1-2 days)
Canada Shipping options:
Shipping within British Columbia - $10.99 (2-4 business days)
Shipping within Alberta, Saskatchewan, Manitoba - $12.99+ (3-5 business days)
Shipping within Canada $14.99+ (4-8 business days)
USA Shipping options:
under 500g - $11.99 (3-5 business days)
under 2kg - $16.99 (3-5 business days)
over 2kg - $24.99 (3-5 business days)
International Shipping options: (example)
QUOTE REQUEST - $0 - Place your order, we provide an accurate quote.
up to 250g - $15 (two pucks or two bottles)
up to 500g - $26 (4 pucks, 2 sets (32) bearings)
up to 1kg - $35 (8 wheels, set (16) bearings)
up to 2kg - $69 (pants, 5 pucks, 8 wheels, set (16) bearings)
up to 3kg - $89 (Jr skates)
up to 4kg - $109 (Sr skates)

Special International Shipping for Small Items up to 2kg:
This is the best way to ship a small bag of Wheels, Bearings, Hardware, Pants, Shirts, Tape etc. anywhere in the world within about a week via Airmail!
Small Item Envelope
Please also note that the shipping rates for many items we sell are weight-based. The weight of any such item can be found on its detail page. To allow for the weight of packaging, we may round the weights up by a percentage.
ELIGIBLE ITEMS: Little stuff
Wheels, Bearings, Hardware, Pants, Pucks, Balls, Shirts, Toques, Tape, Socks etc.
NON-ELIGIBLE ITEMS: Big stuff
Sticks, Shafts, ABS/Composite Blades, Skates, Bags, Shin Guards, Elbow Pads, Helmets, Girdles, Goalie Protective etc.
Returns
If for any reason you are unsatisfied with your purchase, please use the contact us form and we will do our best to correct the issue. All products will have a 14 day return window, but exceptions can be made for unused products still in packaging.
Please let us know as soon as you have any issue with your order and we should be able find an amicable solution.